The Complete List Of Bad Jokes And Puns About Homework
Tickle Your Academic Funny Bone, if You Dare!
We all spend way too much time online looking for funny images related to academics. 
But laughter is the best remedy for any ailment! Here are some funny academic school jokes for you to enjoy! 
…and all are kid-safe, so feel free to share the laugh with your kids! Then share with us which you and your students at home found most funny and entertaining.
Also, join us on Facebook where we share more educational insights and funny academic school jokes as we find them.
Funny Academic School Jokes
Now would you like some help with math to understand all these jokes? 😉
Jokes - You Quack Me Up!!!
School Jokes
Back to Jokes
Check out these special school joke categories for more education jokes for kids:
Here is the list of the rest of our school jokes, puns, and riddles for children and kids: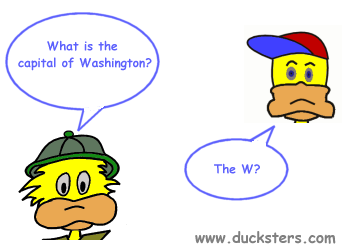 Q: What did the ground say to the earthquake?
A: You crack me up!
Q: Why did the music teacher need a ladder?
A: To reach the high notes.
Q: What's the worst thing you're likely to find in the school cafeteria?
A: The Food!
Q: What kind of plates do they use on Venus?
A: Flying saucers!
Q: Why did nose not want to go to school?
A: He was tired of getting picked on!
Q: How do you get straight A's?
A: By using a ruler!
Q: What did the pen say to the pencil?
A: So, what's your point!
Q: Why did the kid study in the airplane?
A: Because he wanted a higher education!
Q: How did the music teacher get locked in the classroom?
A: His keys were inside the piano!
Q: What do elves learn in school?
A: The elf-abet!
Q: What did you learn in school today?
A: Not enough, I have to go back tomorrow!
Q: What holds the sun up in the sky?
A: Sunbeams!
Q: What object is king of the classroom?
A: The ruler!
Q: When do astronauts eat?
A: At launch time!
Q: What did the pencil sharpener say to the pencil?
A: Stop going in circles and get to the point!
Q: How does the barber cut the moon's hair?
A: E-clipse it!
Q: What happened when the wheel was invented?
A: It caused a revolution!
Q: What do librarians take with them when they go fishing?
A: Bookworms
Q: What is the world's tallest building?
A: The library because it has the most stories.
Q: What vegetables to librarians like?
A: Quiet peas.
Q: Why did the clock in the cafeteria run slow?
A: It always went back four seconds.
Q: Why didn't the sun go to college?
A: Because it already had a million degrees!
Back to Jokes
Parents and Teachers
: Support Ducksters by following us on
or

.